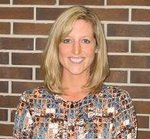 Leigh Croyle, Linden School Counselor
Hello! My name is Leigh Croyle and I am the School Counselor at Linden Elementary school. I feel privileged to be in my fifth year in this position, working so closely with our students and families. I love being a School Counselor because I have the opportunity to work in a helping role as an advocate for students and their families.

By working closely with parents, students, staff and community agencies, I can help students be successful both in and out of school. I support students in learning coping skills, resiliency, appropriate ways of dealing with feelings and making good choices, which are all positive tools that will benefit students in the future.

Communication between home and school is essential in helping our students be successful, and I welcome e-mails and phone calls from parents/guardians regarding any concerns or questions you may have. If you would like to set up an appointment to meet with me, please e-mail or call me. I look forward to working with you and our staff to help build positive futures for all of our students at Linden Elementary.
*Please click on Files at the top of this page for more information.